BONUS OFFER -$500 OFF + 1 Bottle of Champagne - PROMO CODE: TOP500 - Ends 29 Nov!
BONUS OFFER
-$500 OFF + 1 Bottle of Champagne
PROMO CODE: TOP500 - Ends 29 Nov!
Chamonix has been a magnet for alpinists and skiers from all over the world since the 19th century. Its valley is famous for its imposing glaciers and towering peaks, the most significant one, of course, is Mont Blanc. 
Chamonix sits on the French side of the border of France, Switzerland and Italy. This makes it an excellent destination if you want to experience these European countries during your trip.  
Chamonix is the oldest skiing area in the French Alps, and it hosted the first winter Olympic Games in 1924. The vast lift system that has been developed since then offers the full spectrum of skiing and snowboarding. The lifts give you access to all types of terrain that varies from easy to extreme. Even though Chamonix is not well known as an excellent resort for beginners, there are a few adequate nursery slopes and areas to hone your skills. 
This ultimate guide to Chamonix will prepare you for an epic trip to this iconic destination. You will learn about what to see, where to eat, where to stay and what to do, ensuring you have the best time possible. 
Where Is Chamonix?
Chamonix is located in the southeastern part of France, in the Auvergne-Rhône-Alpes region. It is nestled in the French Alps near the Swiss and Italian borders and is known for its dramatic alpine scenery. It is possible to head over the border into Italy, to enjoy a day trip to Courmyeur. You can do this by bus, drive or by helicopter transfer.
The nearest major international airport to Chamonix is Geneva Airport (Aéroport de Genève) in Switzerland. Which is about 88 kilometres away by road.
How High Is Chamonix?
Chamonix is located at an elevation of approximately 1,035 m above sea level. However, the varying geography of the landscape means that the altitudes accessible from Chamonix vary significantly.
The highest peak in Chamonix is Mont Blanc, which stands at an impressive height of 4,809 meters above sea level. Mont Blanc is the highest mountain in Western Europe and attracts mountaineers and climbers from around the world. You can get up close and personal with Mont Blanc from the Aiguille du Midi, which sits at 3,842m.
Chamonix's lowest points reside in the valleys and areas surrounding the town. These valleys, such as the Arve Valley, can have altitudes ranging from around 800 meters to 1,000 meters above sea level.
Due to the colder temperatures, you will find the best snow at higher altitudes. In addition to this, you will see an abundance of glaciers clinging to the mountains.
Views of Chamonix down the bottom and Mont-Blanc (peak surrounded by clouds) at the summit
CHAMONIX VALLEY 
 Chamonix valley is made up of several resorts, Les Grand Montets, Brevent, La Flegere, Le Tour and Les Houches. These all offer a different kind of experience depending on the snow conditions and visibility. 
If you like to spend as much time in the sun as possible, you should head to La Flégère, as it is south facing. La Flégère is linked to Brévant, but you can access Brévant from the cable car a couple of kilometers up the valley. These two areas have a good variety of pistes with spectacular views of Mont Blanc. 
For skiers and snowboarders that like their pistes to be steeper, with consistently good snow conditions, head to the north-facing Les Grand Montets. This is located just above the village of Argentière and has the most challenging terrain in the valley (both on and off-piste). 
Further up the valley from Argentière, is Le Tour. Le Tour offers an excellent selection of gentle pistes, but it also has some fast and wide blue and red runs. 
On the South-west side of the valley, is Les Houches. This is a great place to go if your group has mixed abilities. The easier runs are at higher altitudes, while the more experienced skiers and snowboarders can enjoy the steeper and faster runs back to the resort. Les Houches is also a great option if the weather isn't too good, thanks to its abundance of tree-lined pistes. 
Getting around
Chamonix has a FREE bus system which runs up and down the Valley and serves the various ski resorts included on your Mont-Blanc Unlimited pass. All lines pass by the Chamonix Sud Bus Stop, make a circuit in Chamonix and then connect the town with other 4 communes: Les Houches, Servoz, Argentiere, Vallorcine. 
View of the Mont-Blanc from Les Houches ski area
WHERE TO STAY IN CHAMONIX 
 Chamonix has a range of superb accommodation to suit your needs. Having accommodation that gives you easy access to everything a ski resort has to offer is very important, and it can make or break your holiday. The advantage of staying in the centre of Chamonix is that you are near to everything it has to offer. Here are some fantastic places to stay, that are convenient and luxurious. 
Le Cristal de Jade
An excellent option for five-star accommodation near to the lifts is Le Cristal de Jade. These are luxury 1 to 3 bedroom apartments located next to the Aguille du Midi cablecar. This is in the centre of Chamonix, therefore staying here will ensure that you get to the front of the lift queue every morning. At the end of the day, you can relax in the wellness spa or go for a swim in the private infinity swimming pool. 
Heliopic Hotel & Spa
Another great place to stay at the foot of the Aiguille du midi cablecar is the fabulous Heliopic Hotel & Spa. This is a beautiful four-star hotel featuring cosy rooms, a lobby and bar area, a gourmet restaurant, ski rental shop, meeting rooms and a spa. But, the lobby and bar area also has a variety of kid's areas, making it ideal for families. 
Le Grand Hotel des Alpes
Le Grand Hotel des Alpes is also close to the Aiguille du Midi cablecar. This means it is also close to all the action Chamonix town centre has to offer. This hotel had a refurbishment in 2019, to give it a refined and cosy atmosphere. Many guests stay here to take full advantage of the hotel's outstanding wellness spa. Here you can enjoy a plethora of treatments or simply relax in the jacuzzi, sauna after a swim in the indoor wave pool. 
Le Hameau Albert 1er
Le Hameau Albert 1er is a beautiful five-star hotel with stylish rooms, with stunning views of Mont Blanc. This hotel is unique, as it is made up of luxury chalets and the main historical building. This layout gives the Le Hameau Albert 1er, the aesthetic of a small mountain hamlet. The refurbished rooms have been designed to provide you with a choice between contemporary or traditional alpine decor. 
The hotel's Michelin start restaurant offers out of this world food and over 1000 varieties of wine. And the chic and cosy Quartz bar entertains guests with live jazz in an elegant atmosphere. 
If this isn't enough, the spa's swimming pool gives you views of Mont Blanc. While the extensive list of treatments will make sure you are relaxed and pampered thought your stay. 
Hotel Mont-Blanc
As the name suggests, Hotel Mont-Blanc allows you to wake up with a spectacular view of the iconic peak. This five-star hotel has elegantly decorated rooms and suites with authentic charm. But the outdoor heated pool and the large spa are the perfect places to unwind after a day on the mountain.   
In the evenings you can dine in the hotel's restaurant, Le Matafan. Here you can enjoy, seasonal food taking inspiration from the valley, from Aosta and the Mediterranean. 
Book Your Dream France Ski Holiday Today
Build your own ski package & SAVE: Accommodation + Lift Pass + Ski Rental.
Age of children upon arrival
BONUS OFFER -$500 OFF + 1 Bottle of Champagne - PROMO CODE: TOP500 - Ends 29 Nov!
BONUS OFFER
-$500 OFF + 1 Bottle of Champagne
PROMO CODE: TOP500 - Ends 29 Nov!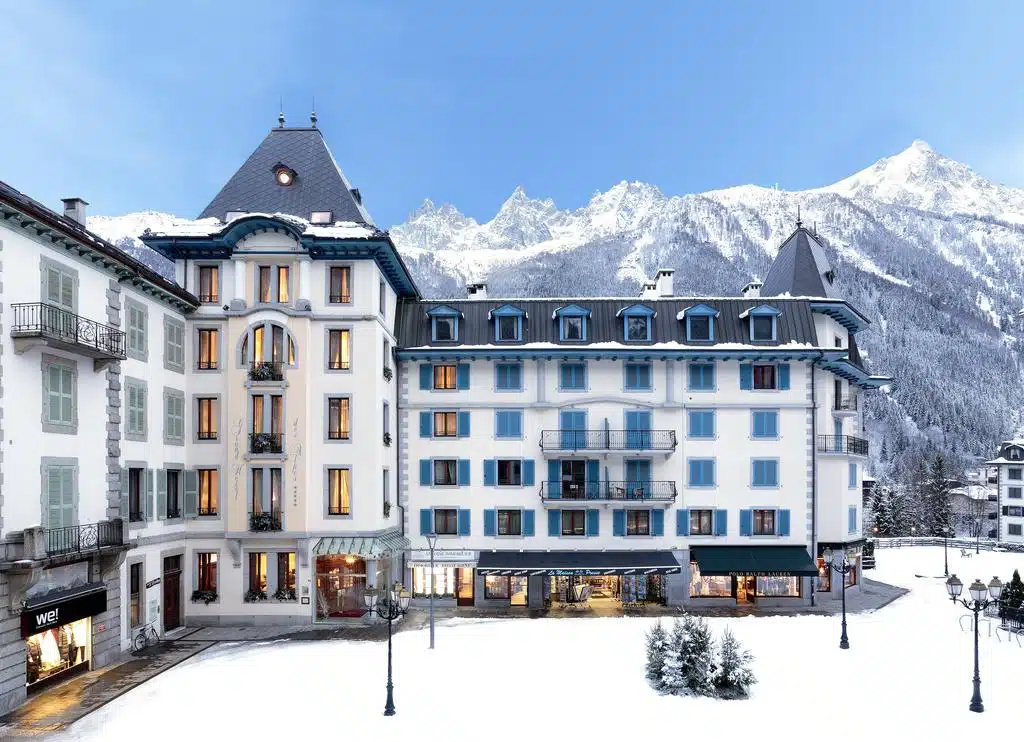 The 5 star Grand Hotel des Alpes has the best location in the heart of the town centre  
WHERE TO EAT IN CHAMONIX 
All the hotels mentioned have fantastic restaurants to enjoy an evening in. But, there are some other fine dining experiences you may want to try during your stay. 
Le Comptoir des Alpes
Le Comptoir des Alpes specialises in Franco-Italian dishes. The food is elegantly prepared with ingredients from local farmers. Chef Daniel Raimondi's personality, education and experience are prevalent in all his meals. This is why it is a favourite among locals and regular visitors to Chamonix. 
L'Atmosphere
Located in the heart of Chamonix, L'Atmosphere offers savoyarde, traditional and contemporary menus. Open for lunch and dinner, you can enjoy fantastic food overlooking the river, with excellent service. 
WHERE TO EAT 

ON

 

THE

 MOUNTAIN

 
La Bergerie De Plan-Praz
Awarded the prestigious Maître Restaurateur, La Bergerie De Plan-Praz offers fantastic food made from delicious local products from nearby farmers and cooperatives. It is very popular thanks to its south-facing terrace with views of the nearby Mont Blanc; therefore, booking is highly recommended. 
Le 3842
Le 3842 is one of the highest restaurants in Europe, as it is located on the very top of l'Aiguille du Midi. If you want to enjoy local flavours amidst spectacular views of the Mont Blanc and Chamonix valley, you need to eat here. 
Le Panoramic
Le Panoramic is a fantastic restaurant that sits at the top of Brévant. It is ideal for skiers and non-skiers to enjoy uninterrupted views of Mont Blanc from the impressive open-air terrace. You can expect local Savoyard food, pasta and specialist dishes. This is also a very popular restaurant, so booking in advance is a good idea. 
La Bergerie De Plan-Praz offers stunning views fantastic food made from delicious local products
CHAMONIX AND BEYOND 
One of the best ways to make the most of your time when staying in Chamonix is to buy the Mont-Blanc Unlimited ski pass. 
The Mont-Blanc Unlimited ski pass gives you access to the whole of the Chamonix valley including Brévent–Flégère, Balme (Le Tour-Vallorcine), Grand Montets and Les Houches, as well as the beginner areas. You can also ride the Aiguille du Midi cablecar, get to the Vallée Blanche and use the Montenvers Mer de Glace train, all from one pass. 
The Mont-Blanc Unlimited pass gives you unlimited access to the French resorts of St Gervais and Megève in the Evasion Mont-Blanc ski area too. 
The Mont-Blanc Unlimited pass also benefits you when you are not on the mountain. It gives you unlimited access to the Richard Bozon sports centre. This is home to a great swimming pool, sauna, hammam and fitness room. You can also use the ice rinks in Chamonix and Les Houches. But if you fancy an easy day, your pass will get you into the museums in the Chamonix Valley. 
Over The Borders 
As Chamonix is on the French/Italian/Swiss border, you may want to see what the other countries have to offer. The pass gives you unlimited access to the high-end resort of Courmayeur in Italy. You can get there via the shuttle buses, but if you are driving, the pass allows you to drive through the Mont Blanc Tunnel too. 
If you want to explore the Swiss side of the border, the unlimited pass gives you a 50% discount for a 1 day 4 Vallées pass. This area includes the resorts of Verbier, Nendaz, Veysonnaz, Thyon, La Tzoumaz and Bruson. 
The unlimited pass is best suited to intermediate and expert skiers who want to have access to all sorts of different ski areas in three different countries, as it covers over 1000km of pistes. The unlimited pass also suits people staying in Chamonix for more than a couple of days, who have lots of time to explore the terrain on offer. 
La Vallée Blanche – World's longest Off-Piste ski run at 22km (access via Aiguille du Midi cable car at 3,842m)
CHAMONIX FOR OFF-PISTE 
Even though you have all these different resorts and areas to choose from, the majority of skiing and snowboarding in Chamonix is off-piste. If you intend on going off-piste anywhere in Chamonix, you need to be prepared with a transceiver, probe and shovel. For the best off-piste, head to the Aguille du Midi. This area has some of the most technical and challenging skiing in the world. 
The Classic Route 
If you are visiting Chamonix for the first time and are in search of powder, you need to do the classic Vallée Blanche route. This is an off-piste route, meaning there is no ski patrol or marked pistes anywhere. You must hire a guide to enter the Vallée Blanche, as there are many hidden dangers, such as crevasses. There are a few variations you can do in the Vallée Blanche, especially if you have touring gear. Touring gear is well worth renting, as your guide will be able to take you to some of the most spectacular terrain and scenery in the world. 
The descent will bring you down the spectacular Mer de Glace (sea of ice). This is a glacier with imposing mountains, either side and stunning blue ice flows all around you. 
At the bottom of the Mer de Glace, you can rest your legs while catching the iconic Montenvers red cog-wheel train. This takes you all the way back down to the town centre of Chamonix and will give you some of the best views the Alps have to offer.  
Before jumping on the train, you may want to refuel at le Refuge du Montenvers. This is an authentic high-altitude refuge, boasting three restaurants. The restaurants at the refuge are very popular, thanks to their fantastic food and panoramic views. Therefore, it is worth booking a table well in advance. 
Getting up early is the best way to ensure you enjoy a powder day in Chamonix. You need to be at the lift no later than 8am, especially if you are heading to Grand Montets. Grand Montets is a very popular area, thanks to its epic, long and steep runs covered in deep powder. 
OTHER ACTIVITIES IN CHAMONIX 
For those of you with non-skiers in your group, or if you fancy experiencing other things Chamonix has to offer, there is quite a lot of choice. 
The thing that everyone should do during a visit to Chamonix is to go up to the Aiguille du Midi. Jump on the cable car that takes you up to over 3800m. From the top, you seem to be just a stone's throw from Mont Blanc's peak, the highest mountain in the Alps.  
You don't have to be on skis or a snowboard to enjoy Mer de Glace glacier. Non-skiers can also ride the Montenvers mountain railway to see the epic landscape, ice cave and eat at the le Refuge du Montenvers. 
There is an extensive Nordic skiing network, which is a great way to see the valley at a slower pace while getting some exercise. But possibly the best way to see the valley is from a paraglider. A tandem paraglide session will give you genuinely uninterrupted views of the landscape and glaciers below you. 
 Chamonix itself also has plenty to offer including dozens of shops, bars and restaurants, an ice rink, sport-centre, 1.3km dry toboggan run, an Alpine museum and a library. There is also a casino if you want to test your luck during the evenings. 
Ice cave at Mer de Glace glacier at the end of La Vallée Blanche run (500 steps up/down to gondola)
How To Get To Chamonix
Chamonix is one of the more accessible ski resorts in the French Alps. You can reach Chamonix in various ways; many people fly to local airports, take the train or drive. We recommend booking a private transfer from the train station or airport to Chamonix. This makes your trip straightforward and stress-free. Here are a few ways on how to get to Chamonix:
How To Get From Paris To Chamonix
Taking the train is one of the best options for getting to Chamonix from Paris. It is an easy and convenient way of travelling through France. You can take the fantastic high-speed TGV train from Paris Gare de Lyon station to St-Gervais-les-Bains. From here, you must change from a main-line SNCF train onto a local train called the Mont-Blanc Express. This line runs up the Arve Valley to Chamonix. There are direct high-speed TGV trains from Paris to St-Gervais during the ski season.
On days when there is no direct TGV service, you'll change from a TGV onto a regional train for the last part of your journey to St-Gervais. The change of train adds little to the overall journey time. But in general, it takes 5 to 6 hours to reach Chamonix from Paris by train.
Driving from Paris to Chamonix takes approximately 7 hours, depending on the traffic and road conditions. You would take the A6 and A40 highways, passing near Annecy, before reaching Chamonix. However, you must remember that you are required by law to have snow chains in the car or winter tyres to drive in the Alps in winter. But not all car rental companies in Paris offer this.
How To Get From Geneva To Chamonix
You can travel easily and conveniently between Geneva and Chamonix by train via the Léman Express. This train service connects Geneva to Saint Gervais-Les-Bains-Le Fayet in about 2 hours and 30 minutes. From there, take the Mont Blanc Express to Chamonix.
However, the Léman Express does not go directly to Geneva airport. So if you fly in and want to catch the train, you will need to get from Geneva Airport to Geneva Central Station. Also, you have to get from Chamonix Central Station to your accommodation in Chamonix.
With this in mind, we recommend booking a private airport transfer when travelling to or from Geneva Airport. Depending on traffic and road conditions, it takes about 1 hour 15min to get from Geneva to Chamonix.
You may be interested to know that it is possible to get from Geneva Airport to Chamonix via helicopter transfer. This reduces your travel time to about 20 minutes. Our travel experts will be able to arrange this for you when you book your trip.
Why Book your Holiday to Chamonix
Chamonix is an iconic destination for skiers and mountain lovers. Visitors are treated to a unique experience that you won't find anywhere else in the world. Its mix of fantastic accommodation, fine dining and epic terrain and landscape, brings people back every year.  
Be social, share with your friends: